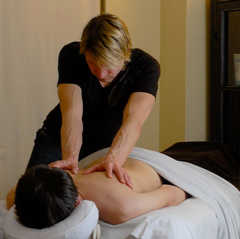 Sports massage is a deeper more robust massage than Remedial Massage.
Originating in the Soviet Union Dating from 1970's theory suggests that massage can prepare an athlete for peak performance. It is a form of Swedish massage designed to treat professional athletes. Used before, during, and after athletic events.
The practitioner uses specific skills and works closely on problem spots, ligaments, muscles and tendons and usually includes stretches that benefit the whole body, and helps to eliminate lactic acid build up.
Sports massage is both preventative and therapeutic, and used for athletes during warm ups, training and competition to treat and/or aid in the prevention of injuries; help improve flexibility, range of motion, and performance; and aid in mental clarity.